Dodds & Erwin - First in Bulk Landscape and Feed in Lanark County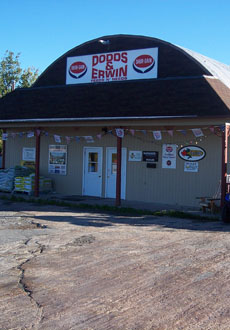 In the agriculture industry, feed and farm supplies play a huge role in the success of a variety of agriculture based companies. From local farms, to agriculture production companies, landscapers and everyone in between, we are the leader in providing bulk landscape and feed in Lanark County. People come to us when they need feed, seed, and landscape supplies because they know we will have what they need when they want it!
Our Services
Our service offers extend well beyond offering feed in Lanark County. We offer a variety of services across the agriculture industry and serve everyone from local farmers, individual customers, and more. Our services include grain processing, farm feed delivery, soil sampling, seed sales, organic grain and seeds, farm fencing, bulk landscaping. Even though we are best known for feed in Lanark Country, we can help you out is so many ways!
Our Products
We also offer a large selection of landscaping supplies that can help you improve the look and functionality of any type of property. We are known for providing some of the following bulk landscape supplies:
Mulch (cedar chips, natural cedar, natural pine and more)
Stone and Sand (river rock, black gravel, masonry sand, and more)
Screened Topsoil
Manure
Mushroom composite
Each one of our products and services come with a high quality service guarantee. Our customers come to us for bulk landscaping materials and feed in Lanark County, but they come back because of the exceptional and personalized customer service that has helped us build our business over the past 4 generations.
Why Call Dodds & Erwin for Feed Lanark County
Our dedicated customers come to us year over year because we take the time to build lasting relationships with them. We take the time to listen, understand your needs, and offer products and services that will help you achieve your business goals. We are the go to company for feed in Lanark Country because:
We have been in the feed business since 1918
We are family owned and operated for 4 generations
We have lawn and garden seeds
We offer a variety of wildlife seed and pet food too!
We treat our customers like part of the family
We offer a wide range of service to meet all your feed needs
We have landscape supplies, and multiple types of mulch, stone and sand
Expect high quality customer service – guaranteed!
Need Feed in Lanark County? Give us a Call!
If you need feed in Lanark County you have come to the right place! Dodds and Erwin offer a wide variety of products and services that will help you meet all of your agriculture business needs. Please don't hesitate to contact us with your questions and inquired about our business and how we can help your business meet its needs.
For more information visit doddsanderwin.com. Call us at 613-267-3808 or Toll Free 1-800-465-7887