Welcome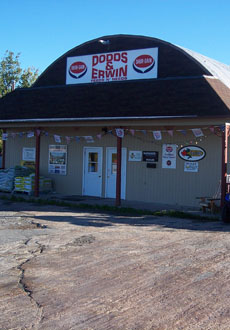 Dodds & Erwin has been serving the agricultural community for over 99 years. Established in 1918 the business is now being operated by 4th generation Erwin's! We supply feed and farm supplies to all the local farms as well as purchase most of our grain locally off those same farms! We also have a wide variety of wild life feeds and pet foods to suite your needs. In the summer months of May-October we have a vast bulk landscape supply depot as well as every variety of lawn seed to garden seed you desire! Stop into our Feeds n' Needs outlet at 2870 Rideau Ferry road, 1 km south of Perth on county road 1.
Our Services
We offer a wide array of services to suit your needs. No job is too big or small for us. We will be able to accommodate your every need.
At Dodds & Erwin we specialize in providing the finest feed in Lanark County. If you are in need of feed in Lanark County give us a call and let us help you. For more information about our products please visit doddsanderwin.com.